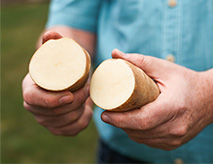 Nutritious and Safe
All Russet potatoes provide a good source of Potassium, Vitamin C, and Vitamin B6, but White Russet™ potatoes also have between 69-78%1 less asparagine which means the potential for acrylamide formation is reduced when the potatoes are cooked at high temperatures. The Food and Drug Administration (FDA) extensively reviewed White Russet™ potatoes and found them to be "as safe and nutritious as their conventional counterparts."
See the nutrition label.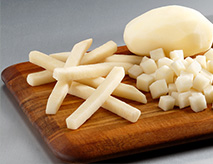 Lower Asparagine Means Less Acrylamide When Potatoes are Baked or Fried
White Russet™ potatoes provide a viable choice for those who consume fried or baked potatoes and want to reduce their consumption of acrylamide, a naturally-occurring chemical compound that can develop when certain foods (including potatoes) are cooked at high temperatures. White Russet™ potatoes have lower levels of asparagine than typical Russet potatoes, reducing the potential for formation of acrylamide. Our tests demonstrated a reduction in acrylamide of 58-72% when the potatoes are cooked at high temperatures.2

Acrylamide formation varies depending on how a potato is prepared and cooked. More information about acrylamide can be found by visiting the FDA website.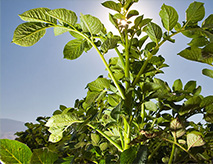 Improved Sustainability
Future generations of White Russet™ potatoes will further contribute to reducing waste associated with bruise, late blight disease and storage losses. This means less land, water and pesticides will be needed to produce potatoes.
1,2 - Data submitted to USDA (March 2013)